Jump to recipe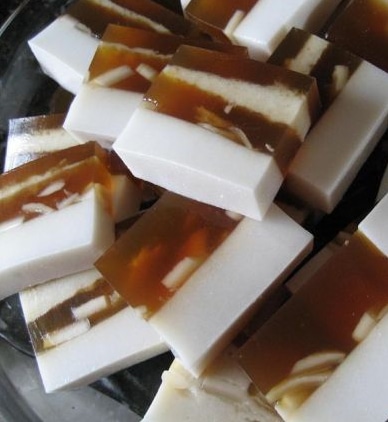 Ingredients
1 can coconut milk
pinch of salt
sugar to taste
2 package of agar-agar (non flavored)
1/4 cup shaved palm sugar ( add more if like sweet) or brown sugar if you can not find palm sugar
1 young coconut (meat, slice)
water
Instructions
In a pot, prepare 1 package of agar-agar, following package instructions.
Once at a boil, add the shaved palm sugar.
Prepare a square 5″ height glass pan, pour in the palm sugar agar-agar mixture, add coconut meat.
Let it cool until almost set.
In another pot, prepare another package of agar-agar. Replace the water in this batch with the coconut milk. If you need to, add water until you have 3 cups of fluid.
Add sugar to taste, bring to boil and add pinch of salt.
Remove from heat, and let cool a small bit. Pour on top of palm sugar mixture.
Allow everything to cool completely, then move to the refrigerator for 1-2 hours, until everything is completely firm.
Serve cold.
Recipe adapted from and photo credit: marykal77 on nibbledish / CC BY-SA