Jump to recipe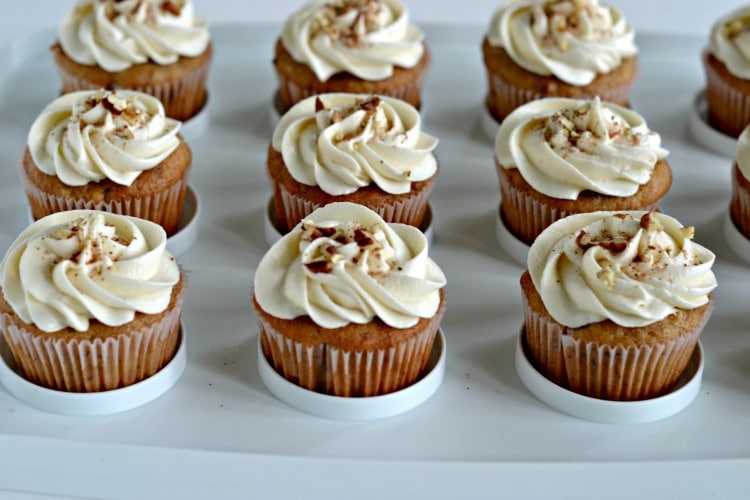 Ingredients
Cupcakes
½ cup (113 g) mashed overripe banana
1 ¼ cups (156 g) all-purpose flour
¼ teaspoon baking soda
1 teaspoon baking powder
1 teaspoon ground cinnamon
½ teaspoon salt
¾ cup (150 g) sugar
1/3 cup (80 ml) canola oil
2?3 cup (160 ml) rice or soy milk
1 teaspoon vanilla extract
½ teaspoon almond extract
½ cup (60 g) chopped, toasted walnuts
Frosting
2 cups (250 g) confectioners' sugar
6 tablespoons (85 g) nonhydrogenated vegetable shortening
6 tablespoons (85 g) vegan margarine
tablespoons (40 g) pure maple syrup
½ teaspoon maple flavoring
Pinch of salt
Instructions
Preheat your oven to 350°F (180°C) and line a twelve-cup muffin pan with paper liners.
Throw your mashed banana in a blender or just smash it with a fork.
Sift the flour, baking soda, baking powder, cinnamon, salt and sugar into a large bowl and mix well.
In a smaller bowl, whisk together the oil, rice milk, vanilla, almond extract and mashed banana.
Stir or fold the wet ingredients into the dry. Small lumps are fine. Finally, add the walnuts, folding gently.
Fill the liners two-thirds full. Bake for 20 to 22 minutes, or until the tops spring back when lightly touched. Let cool in the pan on a wire rack for 10 minutes, then remove from the pan and let cool completely before frosting.
To make the vegan maple buttercream frosting, beat all the ingredients together in a bowl until they're light and fluffy.
Image and recipe reprinted with permission from hezzi-dsbooksandcooks.com and healthyaperture.com