Jump to recipe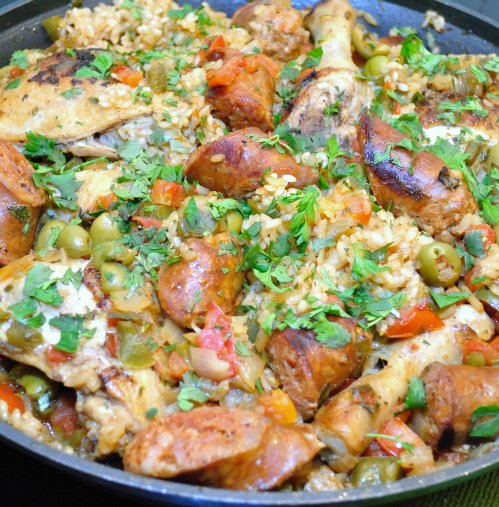 Arroz con Pollo y Chorizo – Chicken and Rice with Chorizo

Ingredients
6 pieces of chicken, legs and thighs, bone-in and skin on
1lb fresh chorizo links
1/2 cup water
2 tbsp olive oil
¼ tsp annatto seeds
1 large yellow onion, medium dice
1 large scallion with green tops, sliced thin
1 bell pepper, medium dice
½ large jalapeno, minced
4 cloves garlic, minced
2 medium plum tomatoes, diced (including juices)
2 tsp cumin
2 cups Valencia rice
2 tbsp fresh oregano, roughly chopped
1 tsp Worcestershire
1½ cups beer (preferably a pale lager)
1½ cups chicken stock
¾ cup Spanish olives, with pimento
2 tbsp cilantro, chopped
1 small lime
Kosher salt and fresh cracked pepper
Instructions
Preheat the oven to 400°.
Season the chicken liberally with salt and pepper, and set aside.
Add the chorizo links and 1/2 cup of water to a deep 12? skillet, cover, and cook over medium-high heat until the water evaporates, and the sausages are lightly sizzling. Remove the sausages to a plate
Reduce the heat to medium, and add the olive oil and annatto seeds. Fry the seeds for a couple of minutes, taking care not to burn them. They should only be lightly sizzling in the oil. Remove the seeds and discard.
Increase the heat back up to medium-high, and add the chicken to the skillet, skin-side down. Cover the pan, and let the chicken cook until golden. Turn the chicken and continue to cook uncovered for another 3 to 4 minutes, until lightly browned on the other side, then remove to the same plate with the sausage.
Drain all but about 2 tbsp of oil from the pan, and add the onions, scallions, bell pepper, and jalapeno until soft, about 4 to 5 minutes. Add the garlic and cumin, cooking until fragrant, just another minute, then add the chopped tomato and continue cooking, stirring occasionally until the tomatoes begin to break down.
Stir in the rice, then the oregano, beer, chicken stock, and Worcestershire. Add the olives, crushing them with your hands. Then nestle the chicken and sausage down into the broth. Cover the pan and place it in the oven. Bake for 30 minutes, stirring the rice halfway through.
Remove from the oven and allow the pan to sit covered for another 10 minutes.
Top everything with chopped cilantro and squeeze the lime over the top.
Recipe and Photo: Feeding Darragh / CC BY-SA