Jump to recipe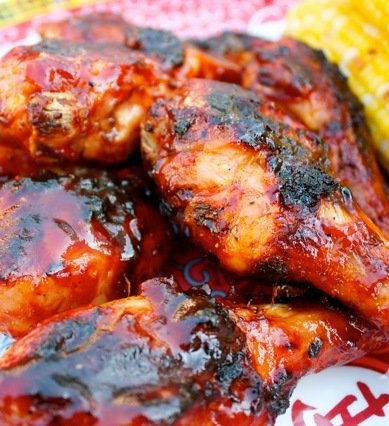 Spicy Korean BBQ Chicken

Ingredients
8 skinless chicken thighs
1 Tbsp sriracha hot sauce
2 Tbsp grapeseed oil, plus more for cooking
1/2 cup apple juice
1 Tbsp honey
1 Tbsp Japanese shiro (white) miso
1 tsp minced ginger
2 garlic cloves, roughly chopped
1 tsp kosher salt, plus more to taste
1 medium yellow onion, thinly sliced
1/2 cup chopped scallions
Instructions
Place the chicken in a large resealable plastic bag. In a medium bowl, mix together the sriracha, oil, apple juice, honey, miso, ginger, garlic, and salt. Add 1 cup of water and mix thoroughly; mix in the onion and scallions.
Pour half the marinade mixture into the plastic bag with the chicken, seal, and refrigerate for at least 2 hours or up to a day. Refrigerate the remaining marinade in a small covered bowl.
When you're ready to eat, remove the chicken from the fridge. Place the saucepan with the reserved marinade on medium heat and simmer until the mixture is thickened and saucelike, about 20 minutes.
Brush a grill or grill pan with grapeseed oil and set the heat to medium high. When the grill is ready, cook the thighs until the undersides have charred grill marks and release easily from the grill, about 8 minutes.
Flip the thighs and cook until a meat thermometer inserted in the middle reads 165°F, about 8-10 minutes more. Let them rest for 2 to 3 minutes, and serve with white rice and grilled vegetables like scallions, mushrooms, or bok choy.
Recipe and Photo: umommy / CC BY-ND