Jump to recipe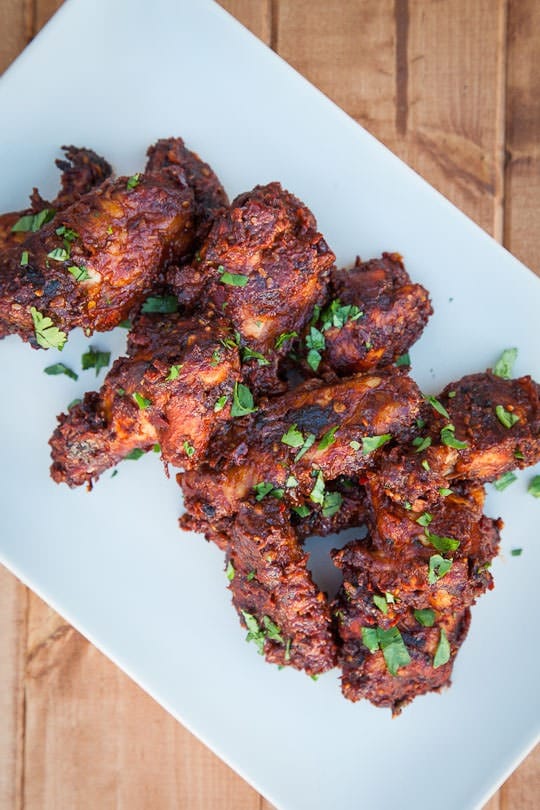 Chicken Wings with Easy Mole Sauce

Ingredients
3 cups chopped onion
3 tablespoons vegetables oil
½ teaspoon coriander seeds
½ teaspoon aniseed
3 tablespoons chili powder
2 teaspoons sugar
¾ teaspoon cinnamon
? teaspoon ground cloves
2 tablespoons unsweetened cocoa powder
2 tablespoons peanut butter
2 to 3 cups chicken broth
a 1-pound can tomatoes, drained and chopped
2 tablespoons raisins
3 garlic cloves, minced and mashed to a paste with ¾ teaspoon salt
2 pounds chicken wings (about 10)
cooked rice as an accompaniment
1 teaspoon sesame seeds
Instructions
In a large heavy skillet sauté the onion in the oil over moderately high heat, stirring, until it is golden brown.
In a mortar with a pestle crush the coriander seeds and the aniseed, stir them into the onion mixture with the chili powder, the sugar, the cinnamon, and the cloves
Cook the mixture over moderate heat, stirring, for 1 minute.
Stir in the cocoa powder, the peanut butter, 2 cups of the broth, the tomatoes, the raisins, the garlic paste, and salt to taste
Simmer the sauce, uncovered, stirring occasionally, for 20 minutes.
While the sauce is cooking cut off the wing tips, reserving them for another use such as stock if desired, and halve the wings at the joint.
Pat the wings dry, season them with salt and pepper, and on the oiled rack of a broiler pan broil them, skin side up, under a preheated broiler about 4 inches from the heat for 10 minutes, or until they are golden.
Turn the wings and broil them for 10 minutes more, or until they are golden.
In a blender or food processor purée the sauce in batches, adding the remaining broth as necessary to thin it to the desired consistency.
Transfer the sauce to the skillet, add the wings, and simmer the mixture, uncovered, for 30 minutes.
Serve the wings with the mole sauce over the rice, sprinkled with the sesame seeds.
Recipe and Photo: recipes.wikia.com / CC BY-SA