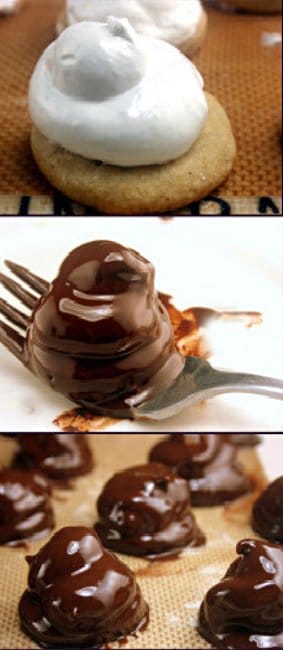 Chocolate Covered Marshmallow Cookies
Ingredients
3 cups (375grams/13.23oz) all purpose flour
1/2 cup (112.5grams/3.97oz) white sugar
1/2 teaspoon salt
3/4 teaspoon baking powder
3/8 teaspoon baking soda
1/2 teaspoon ground cinnamon
12 tablespoons (170grams/ 6 oz) unsalted butter
3 eggs, whisked together

Homemade marshmallows

1/4 cup water
1/4 cup light corn syrup
3/4 cup (168.76 grams/5.95oz) sugar
1 tablespoon powdered gelatin
2 tablespoons cold water
2 egg whites , room temperature
1/4 teaspoon pure vanilla extract

Chocolate glaze

12 ounces semisweet chocolate
2 ounces cocoa butter or vegetable oil
Instructions
In a mixer with the paddle attachment, blend the dry ingredients.
Notes
if you don't want to make your own marshmallows, you can cut a large marshmallow in half and place on the cookie base. Heat in a preheated 350-degree oven to slump the marshmallow slightly, it will expand and brown a little. Let cool, then proceed with the chocolate dipping.
https://stlcooks.com/chocolate-covered-marshmallow-cookies/
For full recipe instructions, visit Parsley, Sage, and Sweet by clicking here!
Recipe and Photo: Parsley, Sage, and Sweet / CC BY-ND