Quick and Easy Chicken Parm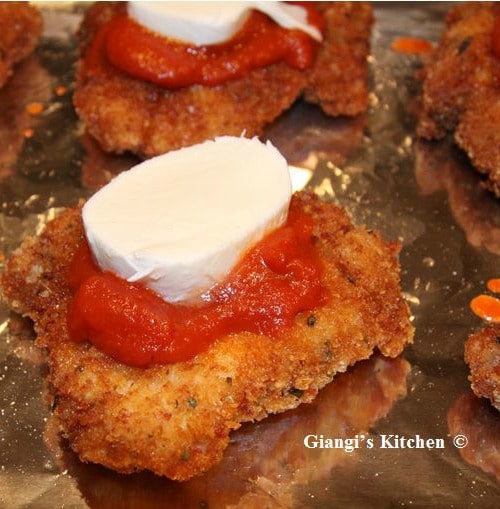 Quick and Easy Chicken Parm
Ingredients
6 boneless, skinless chicken tights
1 cup all- purpose flour
2 extra large eggs
1 cup dry bread crumbs
1 cup Panko
½ cup parmesan cheese
1 teaspoon dry marjoram
Oil
Salt and pepper
Tomato sauce
Fresh mozzarella
Instructions
Preheat oven at 350°
Pound the chicken breast or tights until they are even and ¼ inch thick.
On a shallow dish combine the flour, salt and pepper. On a second dish, beat the eggs with 1 tablespoon of water. On a third dish, combine the bread crumbs, panko, marjoram and parmesan cheese.
Coat the chicken on both sides with the flour mixture, shaking off any excess, then dip both sides into the egg mixture and dredge both sides in the bread crumbs mixture.
Heat the oil in a large sauté pan, ½ inch up to skillet side, and cook breaded thighs on medium high for 2 to 3 minutes on each side, until the chicken is golden brown on each side. Do not overcrowd the skillet. Remove and place in a cookie sheet.
Smear tomato sauce over the chicken and top with a mozzarella slice.
Place in the oven and cook until the mozzarella has melted.
http://stlcooks.com/2014/06/quick-and-easy-chicken-parm/
Recipe and Photo: Foodista / CC BY
This entry was posted by STL Cooks in Dinner, Recipes and tagged bread crumbs, chicken thighs, Eggs, flour, Italian, marjoram, Mozzarella cheese, panko, Parmesan cheese, Poultry, tomato sauce.