Pork Rib Roast with Parsley Pesto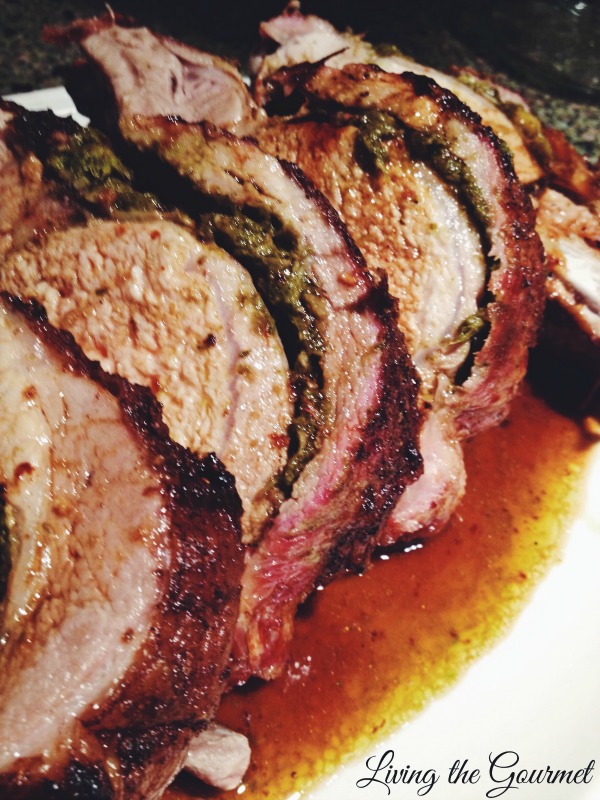 Pork Rib Roast with Parsley Pesto
Ingredients
4 –5 lb. pork rib roast

For the Parsley Pesto:

1 cup of Italian parsley
2 inch piece of fresh ginger – peeled
1 tbs. sugar
3 – 4 cloves of garlic
1 tablespoon olive oil
2 tablespoons soy sauce
1 tablespoon balsamic vinegar

For the Pork Rub:

2 tablespoons ground cumin
1 tsp. ground cloves
1 tsp. salt
1 tsp. curry
Instructions
Place all of the pesto ingredients in a food processor and give a few good chops to a pesto-like consistency.
Carefully make a pocket where the pork separates easily and stuff with the pesto sauce.
Combine all of the dry rub ingredients and rub all over the pork.
Preheat Oven 325 degrees:
Bake 20 – 25 minutes per pound or until the juices run clear.
Let the roast rest for 10 minutes before cutting.
http://stlcooks.com/2014/06/pork-rib-roast-with-parsley-pesto/
Recipe and Photo: Foodista / CC BY
This entry was posted by STL Cooks in Dinner, Recipes and tagged balsamic vinegar, cloves, Cumin, Garlic, Ginger, parsley, Pork, Soy Sauce.