Garlic Cheese Fries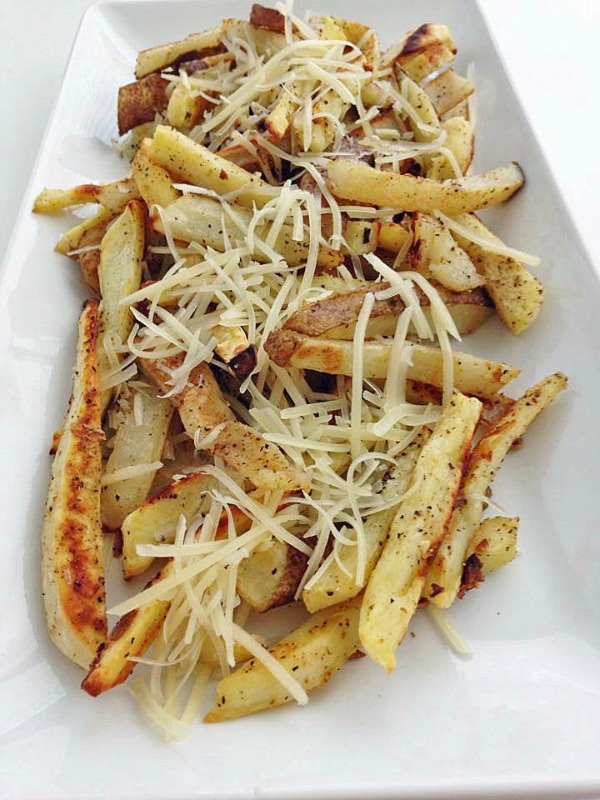 Ingredients
1 large russet potato
1 large white sweet potato
Olive Oil Cooking Spray
10 cloves garlic
4 TBSP Olive Oil
2 TBSP Garlic Powder
1 TBSP Salt
1 TBSP Pepper
½ Cup Shredded Parmesan Cheese

FOR THE GARNISH:

2 pinches of salt
Instructions
Preheat oven to 425 degrees Fahrenheit. Wash potatoes. Peel Sweet potato. Slice both potatoes into ¼ inch thick slices, and ½ the length of the potato long.
Mince garlic. Spray 2 baking sheets with olive oil cooking spray. Place ½ the potatoes on each tray. Add 2 TBSP Olive Oil to each baking sheet. Toss with potatoes. Add 1 TBSP Garlic Powder, ½ TBSP Salt, ½ TBSP Pepper and ½ of minced garlic to each baking sheet. Toss together until evenly coated.
Place baking sheets in oven, and cook for 25 minutes, or until golden brown, rotating upper and lower racks halfway as well as flipping fries.
Once out of oven, combine onto one tray. Add Parmesan cheese, salt for garnish and toss.
http://stlcooks.com/2014/06/garlic-cheese-fries/
Recipe and Photo: Foodista / CC BY
This entry was posted by STL Cooks in Recipes, Sidedish, Snacks and tagged Garlic, garlic powder, Parmesan cheese, potatoes, Sidedish, sweet potatoes.