Classic Coleslaw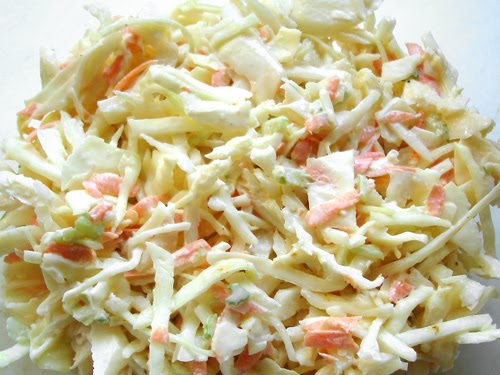 Ingredients
16 ounces bag coleslaw mix (feel free to shred a combination of cabbage and carrots)
1 medium onion, fine diced
2 stalks celery, chopped
1/2 cup cider vinegar
1/4 cup canola oil
1/2 teaspoon salt
1 1/2 tablespoons sugar
Instructions
In a large bowl, combine slaw, onion and celery.
In a small pot, over medium heat, combine vinegar, oil, salt and sugar, bring to a boil. Pour over cabbage mixture, mix well, cover and refrigerate.
http://stlcooks.com/2014/06/classic-coleslaw/
Photo: Grusse Aus Der Kuche / CC BY-ND
This entry was posted by STL Cooks in Recipes, Sidedish and tagged cabbage, carrots, celery, cider vinegar, onion, Salads, Sidedish, sugar.