Banana Snack Cake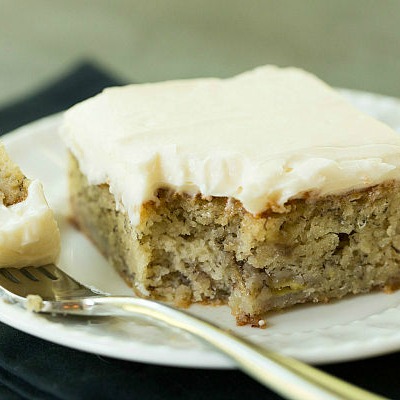 Recipe for Banana Snack Cake - An easy to make banana snack cake that is tasty, yummy and (almost) healthy as banana is there in it
Ingredients
2 cup Butter
3/4 cup brown Sugar
1/2 cup Sugar
2 Eggs
1 cup mashed ripe Bananas
1 tsp Vanilla extract
2 cups all-purpose Flour
1 tsp Baking soda
1 tsp Salt
1/2 cup Buttermilk
1/2 cup chopped Nuts

Frosting

1/2 cup brown Sugar
1/4 cup softened Butter
6 tbsp Milk
3 cups confectioners' Sugar
Instructions
Preheat oven to 350F.
In a mixer, beat butter, sugar, brown sugar and eggs until blended.
Add bananas and vanilla to it and beat until blended.
Sift flour, baking soda and salt until combined, then add this to wet mixture.
Beat the above mixture along with buttermilk until blended.
Add nuts and stir well.
Transfer the mixture into a greased baking pan.
Bake it in a preheated oven until tester comes out clean.
Meanwhile, add butter, sugar and milk in a saucepan, then heat the mixture and boil for two minutes.
Cool the mixture, then add sugar and beat until frosting reaches.
Spread the frosting over cake and serve.
http://stlcooks.com/2014/06/banana-snack-cake/
Recipe and Photo: Foodista / CC BY
This entry was posted by STL Cooks in Dessert, Recipes and tagged bananas, brown sugar, butter, buttermilk, Cake, Desserts, Eggs, flour, milk, sugar, vanilla extract.