7-layer Party Dip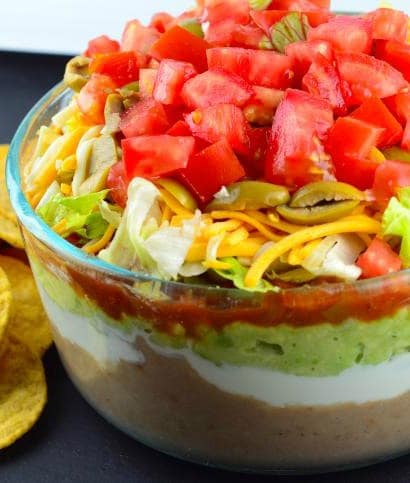 Ingredients
4½ oz can spicy refried beans
2½ cups guacamole
1½ cups sour cream
1 cup cheddar cheese shredded
½ cup tomatoes chopped
½ cup scallions or green onions sliced
4½ oz can black olives sliced
1 bag tortilla chips
Instructions
In a large bowl, spread beans evenly to the edge.
Place a layer of remaining ingredients leaving ½ inch border of each layer exposed.
Ingredients should be layered in the order as follows: guacamole, sour cream, cheese, tomatoes, green onions,.
Keep covered and chilled until ready to serve.
Serve with tortilla chips.
http://stlcooks.com/2014/05/7-layer-party-dip/
Recipe and Photo: recipes.wikia.com / CC BY-SA
This entry was posted by STL Cooks in Party Food, Recipes and tagged black olives, cheese, Dip, green onions, Guacamole, Party food and Showers, refried beans, Sour Cream, tomatoes, tortilla chips.