Roasted Garlic Parmesan Artichokes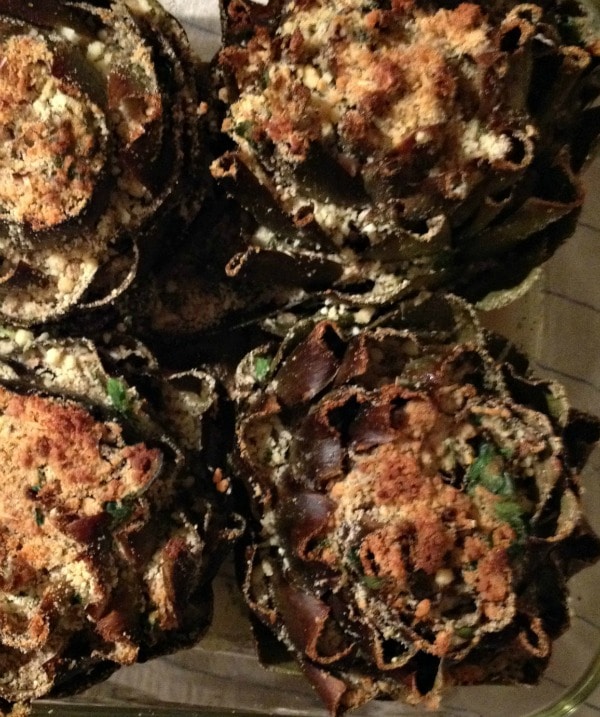 Roasted Garlic Parmesan Artichokes
Ingredients
4 artichokes
5 cloves garlic – chopped fine
½ cup grated Parmesan cheese or Romano cheese
½ cup Italian Parsley – chopped fine
½ tsp. red pepper flakes
2 cups Italian style bread crumbs
3 – 4 tablespoons olive oil
Instructions
Bring the artichokes to a slow boil with the lemon wedge added. Simmer on low until the leaves are tender; 15 -20 minutes.
Drain and let the artichokes cool. When the artichokes are cooled pound them on the counter to open them up; then snip the tips of the leaves and the stems off.
Combine the cheese, garlic, bread crumbs, red pepper flakes and parsley in a bowl. Stuff the leaves of the artichokes and place in a baking dish; drizzle the tops with olive oil.
Preheat Oven 350 degrees:
Bake the artichokes 30-35 minutes. Let cool a bit and serve.
http://stlcooks.com/2014/04/roasted-garlic-parmesan-artichokes/
Recipe and Photo: Foodista / CC BY
This entry was posted by STL Cooks in Recipes, Sidedish and tagged artichokes, bread crumbs, Garlic, Parmesan cheese, parsley, red pepper flakes, Sidedish.