Marinated Black Bean Salad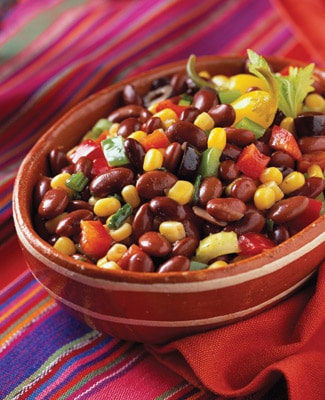 Marinated Black Bean Salad
Ingredients
1 can (16 oz) black beans, drained and rinsed
1 can (16 oz) red beans, drained and rinsed
8 oz edamame, steamed
1 cup drained canned or cooked corn kernels
1 cup sliced celery
½ cup each diced sweet red and green peppers
¼ cup each sliced green onions and ripe olives
2 tbsp seeded and diced pickled hot yellow peppers
¼ cup each vegetable oil and white wine vinegar
¾ tsp salt
½ tsp chili powder
freshly ground pepper to taste
Instructions
Combine drained beans, corn, celery, sweet peppers, green onions, and hot peppers in a large bowl; toss to mix.
Combine remaining ingredients in a small bowl and whisk to blend all ingredients or in a cruet and shake until blended.
Pour dressing over soybean mixture and marinate at least 1 hour.
http://stlcooks.com/2014/04/marinated-black-bean-salad/
Recipe and Photo: recipes.wikia.com / CC BY-SA
This entry was posted by STL Cooks in Healthy, Recipes, Sidedish and tagged beans, bell peppers, celery, chili powder, corn, Green Onion, Salads.