Strawberry Muffins with Cream Cheese filling and Streusel Topping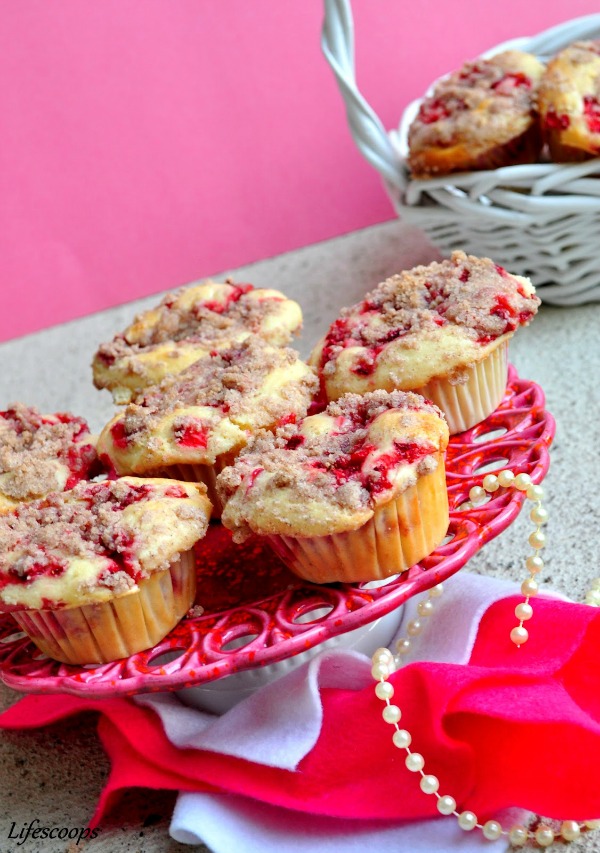 Strawberry Muffins with Cream Cheese filling and Streusel Topping
Ingredients
For Cream Cheese Filling

4 ounces – Cream cheese
1/3 cup – Sugar
1/2 – Egg (about 2 Tbsp. beaten)
1/4 Tsp – Vanilla extract

For Streusel Topping

1/4 cup – All purpose flour
1/4 cup – Sugar
1/2 Tsp – Ground cinnamon
2 Tbsp – Firm unsalted butter

For Muffins

1 Cup – Whole milk
1/4 Cup – Oil
1 – Egg
2 cup – All purpose flour
1/2 cup – Sugar
2 Tsp – Baking powder
1/2 Tsp – Salt
2 cups – Strawberries, cut into small pieces
Instructions
Cream cheese filling

Beat the Cream cheese, sugar, egg and Vanilla in a small bowl and mix until smooth, set aside.

Streusel topping

Combine the flour, sugar and Cinnamon in a small bowl and cut in the butter until the mixture looks like coarse crumbs; set aside

Muffins

Preheat the oven to 400 F
Whisk together the milk, oil, egg and sugar.
Sift together the flour, baking powder and salt and stir into the milk mixture. Be careful not to over mix (the batter will be slightly lumpy)
Spoon a tablespoon of the muffin batter into each cup
Add a sprinkle of the Strawberry pieces
Add a tablespoon of the Cream cheese filling,
Add another tablespoon of the muffin batter followed by another sprinkle of the Strawberry pieces and on top a final sprinkle of the Streusel topping.
Bake for 23-25 minutes (at 400F), let cool in pan for about 5 minutes and serve slightly warm.
Notes
These muffin need refrigeration

Serving them slightly warm is the best
http://stlcooks.com/2014/02/strawberry-muffins-with-cream-cheese-filling-and-streusel-topping/
Recipe and Photo: Life Scoops / CC BY
This entry was posted by STL Cooks in Breakfast, Dessert, Recipes and tagged cinnamon, Cream cheese, Eggs, flour, Fruit, milk, Muffins, strawberries, sugar, vanilla extract.