Pepperoni Pizza Bites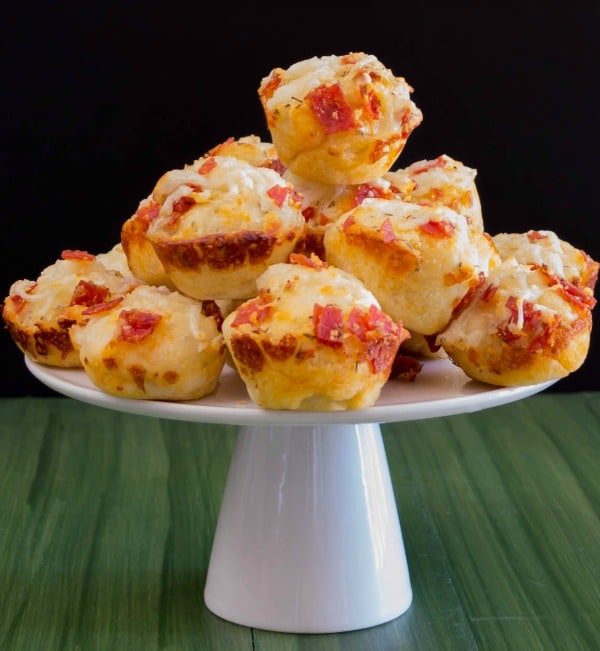 cal
Calories

88kcal
fat
Total Fat

3g
sat fat
Saturated Fat

1g
chol
Cholesterol

7mg
sodium
Sodium

139mg
carbs
Total Carbohydrate

11g
Serving size
35g
Calories from fat
30kcal
Fiber
0g
Protein
4g
Sugar
0g
Ingredients
For dough

1

cup

warm

water (100° to 110°)

10

ounces

bread flour

(

2

cups

)

1

package

dry yeast

(about

2¼

teaspoons

)

1

cup

mozzarella

/

provolone cheese

, shredded
Directions
For Dough
Weigh or lightly spoon flour into dry measuring cups and spoons; level with a knife. Add flour, salt and yeast to large bowl. Add olive oil to one side of bowl. Slowly add in water and stir with wooden spoon to combine.
Once dough comes together, place on lightly floured counter and knead to form soft elastic dough. Place dough in large bowl lightly coated with olive oil. Gently roll dough around bowl to coat. Cover and let rise for 1 hour or until doubled in size.
For Topping
In a large bowl combine cheese, chopped pepperoni and seasoning.
To Assemble
Place a small piece of dough in the bottom of a mini muffin pan coated with non-stick spray.
Top dough with pepperoni mixture.
Bake at 400 degrees for 10-12 minutes.
Recipe and Photo: Pick Fresh Foods / CC BY
This entry was posted by STL Cooks in Recipes and tagged Appetizer, bread flour, Mozzarella cheese, oregano, Party food and Showers, Pepperoni, Pizza, Tailgate, thyme, yeast.