Ham Egg and Cheese Bake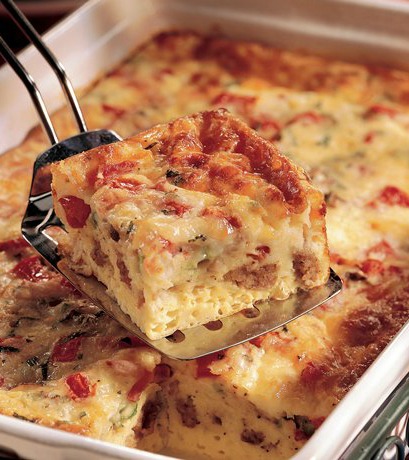 Ingredients
6 Large Eggs
6 Slices of Ham, cubed – You may also use 1 Cup of cooked breakfast sausage, crumbled
6 Slices of White Bread, cubed
2 C. Milk
1 C. Cheddar Cheese, shredded
1 Teaspoon Minced onions
1/2 Teaspoon Dry Mustard
1/2 Teaspoon Lawry's Seasoned Salt
Instructions
Mix all ingredients very well. Place in a greased 9×13 inch baking pan. Refrigerate over night. Preheat oven to 350 degrees. Bake for 45 minutes. Cut into square portions, then enjoy!
http://stlcooks.com/2014/02/ham-egg-and-cheese-bake/
Recipe and Photo: Treasured Recipes / CC BY
This entry was posted by STL Cooks in Breakfast, Recipes and tagged Bread, Breakfast, Brunch, cheddar cheese, Eggs, ham, milk, mustard powder, onion.