Crispy Thai Pork and Shrimp Wontons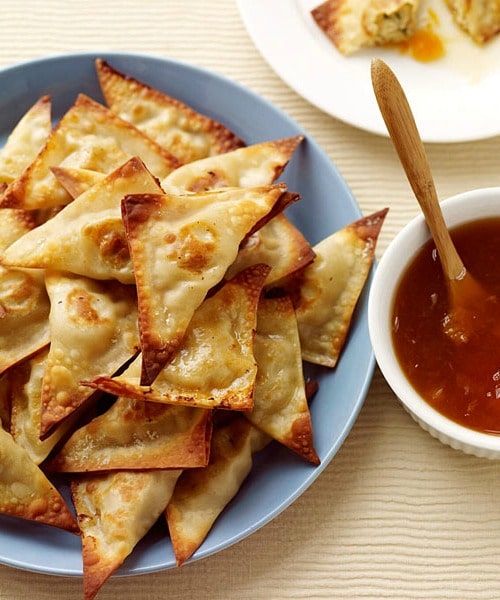 Crispy Thai Pork and Shrimp Wontons
Ingredients
1 Tbsp ginger root, fresh, coarsely chopped
1 medium garlic clove(s)
1 Tbsp lemon grass, tender bottom parts only, chopped
2 medium scallion(s), coarsely chopped
2 oz cooked shrimp, peeled and deveined
3 oz boneless pork chop, cooked and cut into 1 1/2-inch pieces
1/2 tsp sesame oil
2 Tbsp low-sodium soy sauce
20 wonton wrapper(s), plus a few extra in case some break
2 sprays cooking spray
2 Tbsp apricot preserves
2 Tbsp water
1 Tbsp fresh lime juice
1 Tbsp fish sauce
Instructions
Preheat oven to 400ºF.
In the bowl of a food processor fitted with a chopping blade, place ginger, garlic, lemon grass and scallions; pulse until finely chopped. Add shrimp, pork, oil and soy sauce; pulse to combine. Spoon mixture into a small bowl and mix well to combine.
Lightly coat a baking sheet with cooking spray. Place wonton wrappers on prepared baking sheet so they look like diamonds.
Fill a small bowl with water and using your finger or a small pastry brush, coat edges of wrappers with water. Spoon a heaping teaspoon of shrimp mixture onto middle of each wrapper; fold each wrap over filling to make a triangle and press to seal edges.
Coat tops of wontons with cooking spray and bake, flipping once, about 3 minutes per side. If wontons are not crispy enough, cook for 1 to 2 minutes more.
Meanwhile, while wontons are baking, in a small bowl, stir together preserves, water, lime juice and fish sauce. Serve wontons with dipping sauce on the side. Yields 4 wontons and about 1 tablespoon of sauce per serving.
http://stlcooks.com/2014/02/crispy-thai-pork-and-shrimp-wontons/
Recipe and Photo: Forever Thin / CC BY-SA
This entry was posted by STL Cooks in Recipes, Sidedish, Snacks and tagged Appetizer, apricot preserves, Asian, fish sauce, Garlic, Ginger, lemon grass, Lime Juice, pork chop, scallions, sesame oil, shrimp, Soy Sauce, wonton wrappers.