Bacon Cheese Dip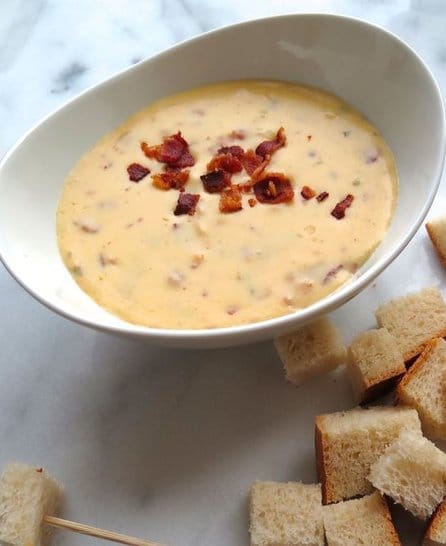 Ingredients
2 tbs Flour
2 tbs Butter
about 1 tsp Chili powder (optional)
1 lb of Cheese (I used 1/2 lb of Cheddar and 1/2 lb of Pepper Jack – cheeses are going to react differently to being melted, so I cannot guarantee results) cube or shred this
1 tbs jalapeños – use more for a spicier dip
6 Strips of Bacon, cooked and crumbled (use as many as you want)
Instructions
To start you need to melt the butter on medium heat. As it melts, sprinkle in some chili powder.Once it is all melted, pour in your flour followed by your liquid/milk. Once it is all mixed you are ready to move on.
Start slowly adding in your cheese. Make sure that all of it is melted.
Once all of your cheese has melted, mix in the bacon and jalapeno.
Serve it and enjoy!
http://stlcooks.com/2014/02/bacon-cheese-dip/
Recipe and Photo: Penolopy Bulnick on instructables / CC BY-NC-SA
This entry was posted by STL Cooks in Party Food, Recipes and tagged bacon, butter, cheese, chili powder, Dip, flour, jalapeños, Party food and Showers, Tailgate.