Asparagus Salad with Lemon Soy Vinaigrette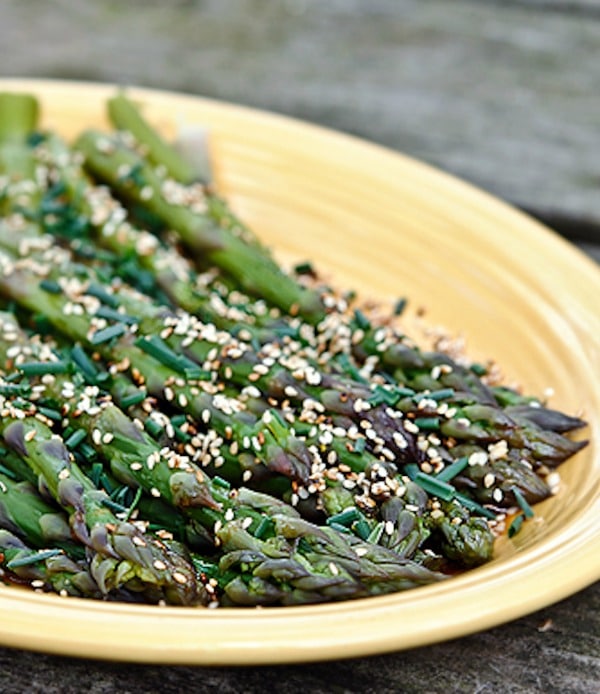 Asparagus Salad with Lemon Soy Vinaigrette
Ingredients
1¼ lbs asparagus cut diagonally into 1½ inch pieces
10 scallions, trimmed with some green
1 scallion, chopped and set aside
1 tablespoon vegetable oil
¼ teaspoon fresh ginger, grated
½ cup reduced sodium chicken broth
1 tablespoon rice wine vinegar
1 teaspoon low-sodium soy sauce
½ teaspoon sugar
1 teaspoon freshly ground black pepper
1 tablespoon fresh-squeezed lemon juice
Instructions
Steam asparagus and scallions in a steam basket over boiling water for 5 minutes or until asparagus is crisp-tender.
Remove from heat and rinse with cold water in a colander to stop the cooking.
Drain and let cool.
Make the vinaigrette: in a small saucepan, heat oil over medium-high heat.
Add ginger and cook until it begins to brown.
Add the reserved chopped scallion and cook for 15 seconds then stir in the chicken broth, vinegar, soy sauce and sugar.
Remove from heat and set aside.
In a large bowl, toss steamed asparagus and scallions with the vinaigrette then add ground pepper and lemon juice then serve.
http://stlcooks.com/2014/02/asparagus-salad-with-lemon-soy-vinaigrette/
Recipe and Photo: recipes.wikia.com / CC BY-SA
This entry was posted by STL Cooks in Healthy, Recipes, Sidedish and tagged asparagus, chicken broth, Ginger, Healthy, lemon juice, Salads, scallions, Sidedish, Soy Sauce, sugar.