Flax and Oat Bran Muffins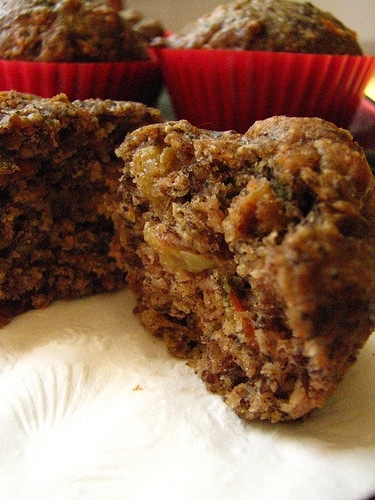 Flax and Oat Bran Muffins
Ingredients
1 1/2 cup unbleached white flour
3/4 cup flaxseed meal
3/4 cup oat bran
3/4 cup brown sugar
2 tsp. baking soda
2 tsp. baking powder
1/2 tsp. salt
2 tsp. cinnamon
1 cup carrots, grated
1 large apple, grated
1/2 cup raisins
3/4 cup milk
2 eggs, beaten
1 tsp. vanilla
Instructions
In a large bowl, mix together all dry ingredients. Stir in carrots, apples and raisins.
Combine milk, beaten eggs and vanilla. Pour liquid ingredients into dry ingredients and stir until ingredients are moistened.
Do not over mix. Fill muffin cups 3/4 full.
Bake at 350 degrees for 15-20 minutes, or until a toothpick comes out clean.
http://stlcooks.com/2014/01/flax-and-oat-bran-muffins/
Recipe and Photo: Foodista / CC BY
This entry was posted by STL Cooks in Breakfast, Recipes, Snacks and tagged apple, Breakfast, brown sugar, carrots, cinnamon, Eggs, flour, Healthy, milk, Muffins, oat bran, Raisins, Vanilla.