Chili Lime Hot Crab Dip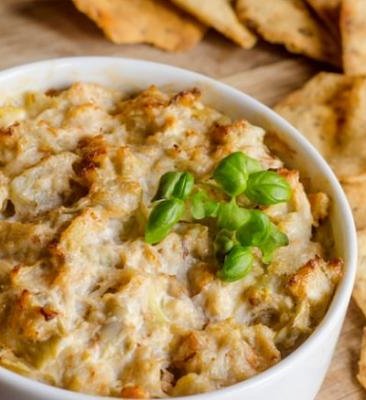 Ingredients
3 or 4 tablespoons mayonnaise
2 – 8 oz. cream cheese packages, softened
2 – 6 oz. cans lump crab meat
2 cups cheddar cheese, shredded
1 1/2 tablespoons fresh lemon juice
2 tablespoons Worcestershire sauce
2 tablespoons Cholula Chili Lime Hot Sauce
Paprika, lime wheel and parsley, for garnish
Toasted crostini or crackers
Instructions
Preheat oven to 350?F
In a medium bowl, mix the mayonnaise, cream cheese, crab meat, cheddar cheese, lemon juice, Worcestershire and Cholula Chili Lime Hot Sauce. Transfer to a shallow baking dish (approximately 9" x 13"). Top with paprika.
Bake in the preheated oven until golden brown, about 30 minutes. Let stand 5 minutes before serving. Garnish with lime wheel and parsley. Serve with toasted crostini or crackers.
http://stlcooks.com/2014/01/chili-lime-hot-crab-dip/
Recipe and Photo: Foodista / CC BY
This entry was posted by STL Cooks in Party Food, Recipes and tagged Appetizer, Cholula Chili Lime Hot Sauce, crab meat, Cream cheese, Dip, mayonnaise, Party food and Showers, Shellfish, Worcestershire sauce.