Baked Buffalo Chicken Taquitos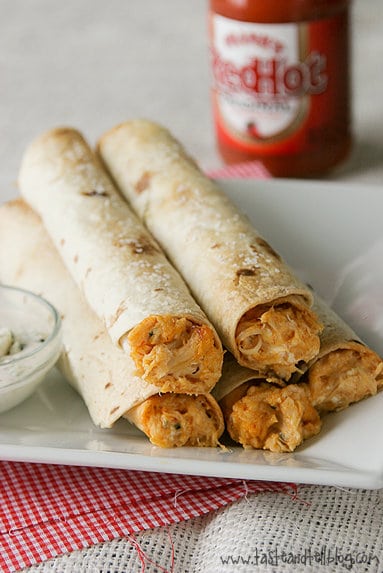 Baked Buffalo Chicken Taquitos
Ingredients
4 ounces cream cheese, softened
1/8 cup buffalo sauce
1 cup shredded Monterey jack cheese
1/8 cup blue cheese crumbles
1 can (12.5-ounce) Swanson Premium Chunk Chicken Breast in Water, drained
8 8-inch flour tortillas
coarse Kosher salt
Instructions
Preheat the oven to 350°F.
In a bowl, combine the cream cheese and buffalo sauce. Mix well. Stir in the Monterey jack cheese, blue cheese crumbles and chicken; mix well.
Place 2-3 tablespoons of the mixture down the center of each tortilla and roll up. If needed, microwave the tortillas for about 30 seconds to make them soft and pliable enough to roll. Place on a baking sheet. Spray the taquitos with cooking spray, then sprinkle with coarse salt.
Bake in the preheated oven for 17-20 minutes, or until golden brown. Serve with blue cheese dressing for dipping, if desired.
http://stlcooks.com/2014/01/baked-buffalo-chicken-taquitos-2/
Recipe and Photo: Foodista / CC BY
This entry was posted by STL Cooks in Recipes, Snacks and tagged blue cheese, chicken, Cream cheese, Monterey Jack cheese, Party food and Showers, Poultry, Snacks, Southwest, Tailgate, tortillas, wing sauce.