Asian Style Meatballs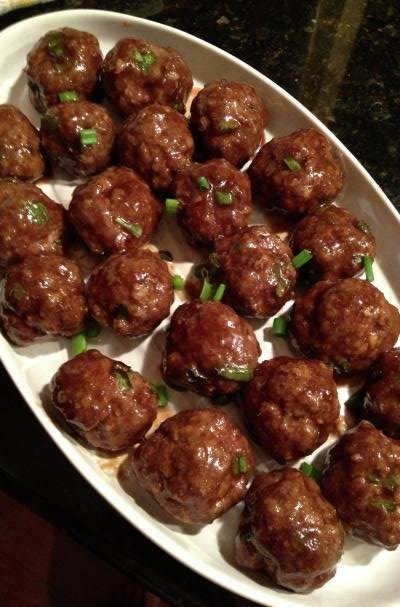 Ingredients
1 lb ground beef or pork
3/4 cup plain panko breadcrumbs
1 1/2 tsp garlic powder
1 tsp sesame oil
1/4 tsp ground ginger
1/4 cup sliced scallions
1 egg
1/4 cup water

For the sauce:

1/3 cup hoisin sauce
2 Tbsp rice vinegar
1 tsp garlic powder
3 Tbsp soy sauce
1/2 tsp sesame oil
a handful of sliced scallions
Instructions
Oven at 375 degrees.
Add the beef, panko, sesame oil, garlic powder, ginger, egg, scallion and water to a bowl. Mix to combine.
Form into approximately 1-1 1/2 inch balls. Place on a parchment lined baking sheet. Bake for about 15-18 minutes until lightly golden.
Add all the ingredients for the sauce to a small saucepan over medium low heat. Stir to combine and cook until warmed through.
Toss the cooked meatballs in the sauce. Garnish with scallions.
http://stlcooks.com/2014/01/asian-style-meatballs/
Recipe and Photo: Foodista / CC BY
This entry was posted by STL Cooks in Appetizers, Party Food, Recipes and tagged Appetizer, Beef, egg, garlic powder, Ginger, ground beef, hoisin sauce, panko, Party food and Showers, Pork, rice vinegar, scallions, Soy Sauce, Tailgate.