Apple Cake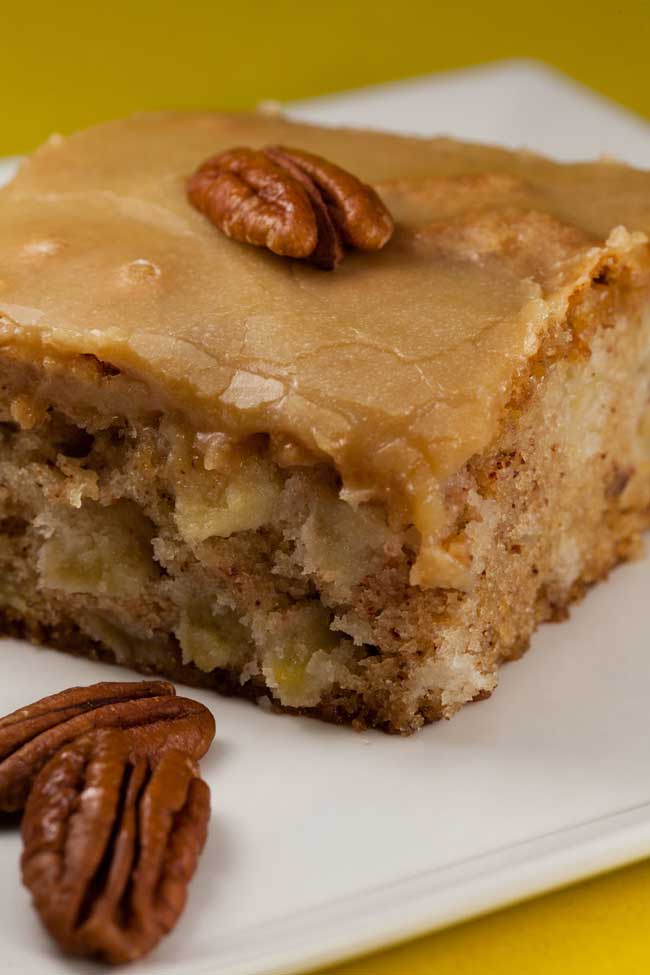 Apple Cake Recipe - This is my favorite cake, I have tried many apple cakes over the years and this is a winner!! So moist and dense, with a caramel taste, cannot say enough, just try it and see.
Ingredients
Cake

1 c vegetable oil
2 c sugar
3 eggs
3 c flour
1 tsp baking soda
2 tsp vanilla
1 c chopped pecans
3 c peeled and chopped apples

Frosting

1/2 c butter
1 c brown sugar, packed
1/4 c evaporated milk
1/2 tsp vanilla
Instructions
For the cake

Preheat oven to 350 degrees. Grease a 9 x 13? pan. Combine oil, sugar, and eggs. Stir in flour and baking soda. Add vanilla, pecans, and apples. Spread in prepared pan and bake for 45-50 minutes. Cool for 2 hours. Then prepare frosting.

For the frosting

Boil all ingredients in a small saucepan for 2 minutes. Set pan in bowl filled with ice water. Beat icing until of spreading consistency. Spread over top of cake.
http://stlcooks.com/2013/10/apple-cake/
Recipe and Photo: Peggy's Recipe Share / CC BY-SA
This entry was posted by STL Cooks in Dessert, Recipes and tagged apples, brown sugar, butter, Cake, Desserts, Eggs, evaporated milk, flour, Fruit, pecans, sugar, Vanilla.