Vegan Baked Apple Cider Donuts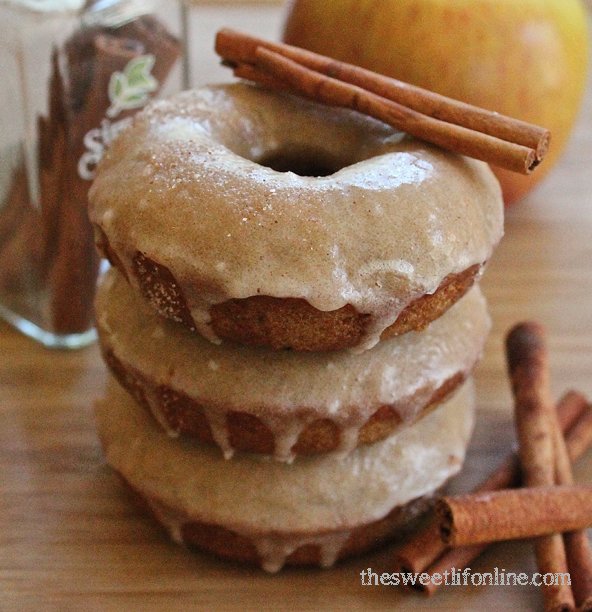 Vegan Baked Apple Cider Donuts
cal
Calories

294kcal
Low fat
Total Fat

3g
sat-fat Free
Saturated Fat

0g
chol Free
Cholesterol

0mg
sodium
Sodium

399mg
High carbs
Total Carbohydrate

66g
Serving size
104g
Calories from fat
24kcal
Fiber
2g
Protein
2g
Sugar
46g
Ingredients
APPLE CIDER DOUGHNUTS

APPLE CIDER GLAZE

CINNAMON SUGAR TOPPING
Directions
Preheat the oven to 350 degrees Fahrenheit. Generously grease a donut pan and set aside.
In a small bowl combine flour, baking powder, baking soda, spices, and salt. In a separate bowl whisk together maple syrup, apple cider, apple sauce, canola oil, and vanilla extract. Add wet ingredients to dry and mix until just combined.
Spoon or pipe batter into the prepared doughnut pan, filling each mold about 3/4 full.
Bake for 8-10 minutes, until doughnuts springs back when gently pressed. Remove from oven and let cool in pan for a few minutes before transferring doughnuts onto a cooling rack to cool completely.
To make glaze, whisk together powdered sugar and apple cider in a small shallow bowl. In a separate bowl, combine ingredients for cinnamon sugar topping.
Once doughnuts have cooled, dip the tops of each doughnut into the glaze. Immediately sprinkle with cinnamon sugar.
Let glaze harden and enjoy!
Image and recipe reprinted with permission from www.thesweetlifeonline.com and www.healthyaperture.com
This entry was posted by STL Cooks in Recipes and tagged allspice, apple cider, apple sauce, Breakfast, cinnamon, flour, maple syrup, nutmeg, powdered sugar, Snacks, vanilla extract, Vegetarian.