Three Cheese Prosciutto Roasted Red Pepper and Broccoli Rabe Stromboli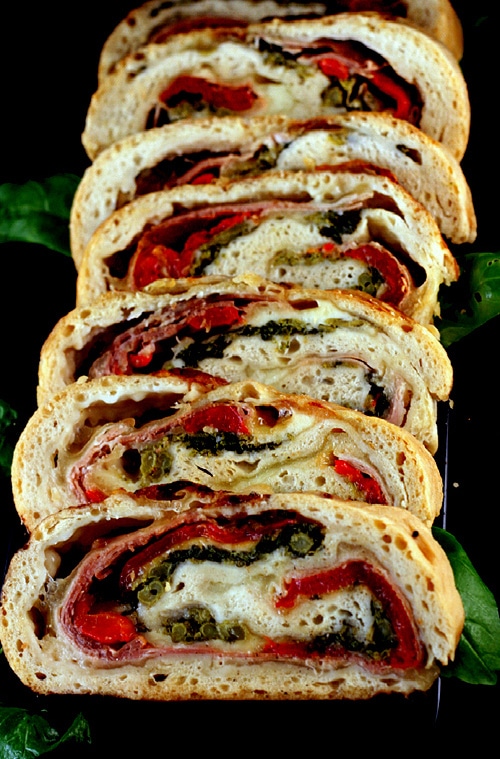 Recipe: Three Cheese Prosciutto, Roasted Red Pepper, and Broccoli Rabe Stromboli
Ingredients
Dough
1 packet active dry yeast
1 1/4 cups water
3 1/2 cups unbleached flour
1 1/2 teaspoons salt
3 tablespoons olive oil
Filling
1 bunch of broccoli rabe washed and woody stems removed (If you don't like broccoli rabe, use broccoli instead, blanching it first))
2 tablespoons olive oil
2 garlic cloves, minced
hot chili flakes (optional)
Kosher salt and fresh ground black pepper
2 or 3 large red bell peppers, roasted seeded, peeled – each one sliced flat, into 3 or 4 pieces, blotted dry
12 oz fresh mozzarella cheese, sliced
8 oz thinly sliced prosciutto
8 oz thinly sliced provolone cheese
Olive oil
Asiago or any Italian hard grating cheese
Instructions
Make the dough. Sprinkle yeast into 1 cup of tepid water in a bowl. Let sit for 5 minutes until foamy.
For full recipe instructions, visit Parsley, Sage, and Sweet by clicking here!
Recipe and Photo: Parsley, Sage, and Sweet / CC BY-ND
This entry was posted by STL Cooks in Recipes and tagged Asiago cheese, bell peppers, broccoli rabe, flour, Garlic, Italian, Mozzarella cheese, olive oil, Prosciutto, provolone cheese, Sandwiches, yeast.