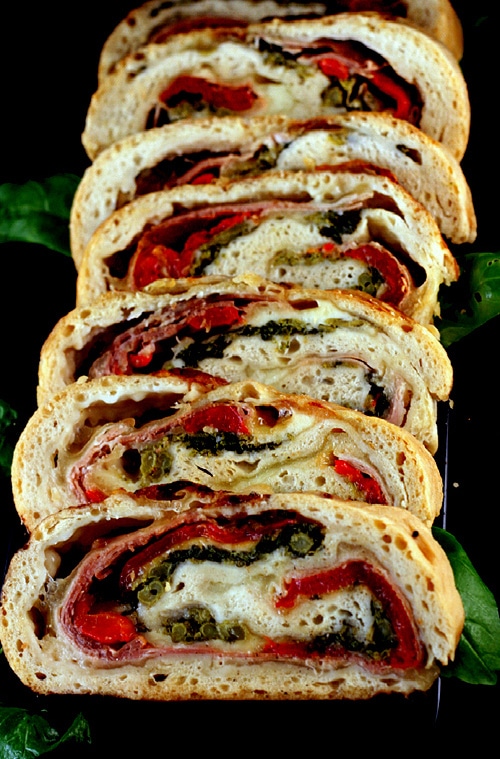 Recipe: Three Cheese Prosciutto, Roasted Red Pepper, and Broccoli Rabe Stromboli
Ingredients
Dough
1 packet active dry yeast
1 1/4 cups water
3 1/2 cups unbleached flour
1 1/2 teaspoons salt
3 tablespoons olive oil
Filling
1 bunch of broccoli rabe washed and woody stems removed (If you don't like broccoli rabe, use broccoli instead, blanching it first))
2 tablespoons olive oil
2 garlic cloves, minced
hot chili flakes (optional)
Kosher salt and fresh ground black pepper
2 or 3 large red bell peppers, roasted seeded, peeled – each one sliced flat, into 3 or 4 pieces, blotted dry
12 oz fresh mozzarella cheese, sliced
8 oz thinly sliced prosciutto
8 oz thinly sliced provolone cheese
Olive oil
Asiago or any Italian hard grating cheese
Instructions
Make the dough. Sprinkle yeast into 1 cup of tepid water in a bowl. Let sit for 5 minutes until foamy.
Mix the flour and salt in a large bowl. Make a well in center and pour in dissolved yeast and the oil. Mix in flour from sides of well. Stir in reserved water, as needed, to form a soft, sticky dough.
Turn dough out onto a lightly floured surface. Knead until smooth, silky, and elastic, about 10 minutes. Place the dough in a clean, oiled bowl and cover with clean kitchen towel. Let rise until doubled in size, 1 1/2 to 2 hours.
While dough is resting..roast your peppers and prepare the broccoli rabe. Cut the cleaned and trimmed bunch of broccoli rabe in half, then boil in two inches of salted water for about 3 to 4 minutes. Strain and drop into a bowl of ice water to stop the cooking. Strain again and blot dry. Heat the tablespoon of olive in a saute pan. Add the minced garlic and saute until soft but not browned. Add broccoli rabe a little at a time until wilted. Saute for 2 to 3 minutes, salt and pepper to taste and add your desired amount of hot chili flakes, if using. Remove the rabe from the pan to a plate to cool.
Punch down the risen dough and place it on a floured board. Cover and let it rest for 10 to 15 minutes, to relax the gluten.
Roll the rested dough into a 14″ x 8″ rectangle. Cover with clean towel and let rest another 10 minutes.
Spread the mozzarella cheese, prosciutto, roasted red peppers, provolone cheese, and broccoli rabe evenly over dough, layer by layer in the order listed.
Roll up the dough, starting at one of the shorter sides, but without rolling too tightly. Seal well.
Place on oiled baking sheet or a baking sheet lined with a silpat or parchment paper. Use a skewer or knife to pierce several holes through the dough all the way down to the baking sheet. Brush loaf with olive oil, them top with peels of asiago cheese (or any hard Italian grating cheese you prefer).
Bake at 400 degrees F for about an hour until golden brown. Let rest a few minutes before slicing.
Recipe and Photo: Parsley, Sage, and Sweet / CC BY-ND